Professional teeth whitening uses dental-grade bleaching solutions and techniques to transform your smile and provide dramatic results in just one visit. In fact, you can boost the brightness of your pearly whites by up to eight shades with in-office teeth whitening. To prevent discoloration and maintain your fresh-from-the-dentist results, here are some steps you'll want to take to keep your teeth shining: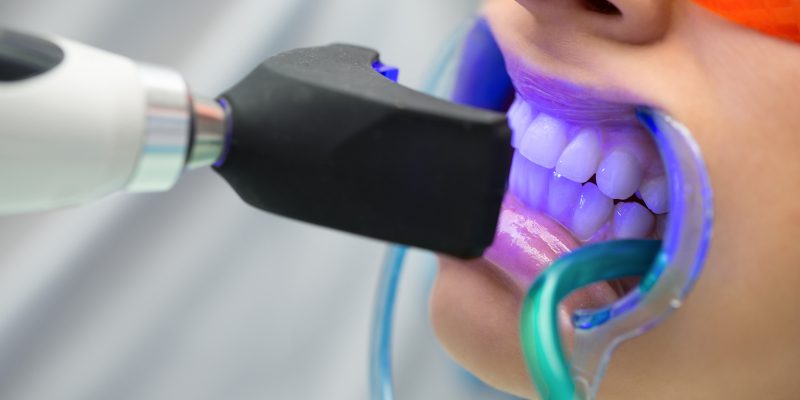 • Avoid staining agents: To keep your teeth as white as possible, refrain from consuming foods like soy, barbeque, and red pasta sauces, cured meats, chocolate, and fruits. Smoking and consuming tobacco products, along with drinking liquids like black tea, soda, fruit juice, kombucha, coffee, and wine can also discolor enamel and should be avoided — especially within the first 24 hours after your teeth whitening appointment.
• Rinse your mouth: Simply swishing water can help reduce the enamel damage and staining that sugary and acidic foods and drinks can cause. A pH balancing mouth rinse or fluoride mouthwash can also be beneficial..
• Brush and floss: A regimen that includes flossing daily and brushing morning and night for at least two minutes will help maintain a healthy, white smile. More effective than a manual toothbrush, an electric toothbrush — which can reduce plaque by up to 21 percent after three months of use — and fluoride toothpaste are the best tools for thorough brushing. It's also important to be gentle, use a soft-bristled toothbrush, and not overbrush your teeth to prevent damaged enamel.
• Consume tooth-healthy foods and drinks: Soft, calcium-rich foods and drinks will help restore your enamel and maintain the look of your teeth whitening results for longer. The best food options include pasta, cauliflower, rice, chicken, tofu, and dairy products, while recommended drinks include coconut water, milk, and water.