Removable complete dentures allow you to smile with confidence.
Having a complete smile is important not only for your self-confidence, but for your overall health, so if you're missing most or all of your teeth, it can have a major impact on your life. Whether your teeth are missing due to age, trauma, severe deterioration that led to them needing to be removed, or any other reason, dentures are an excellent option. Here at Dental Oasis of Clayton, we can fit you with removable complete dentures that will look and feel great, allowing you to live a healthier, happier life.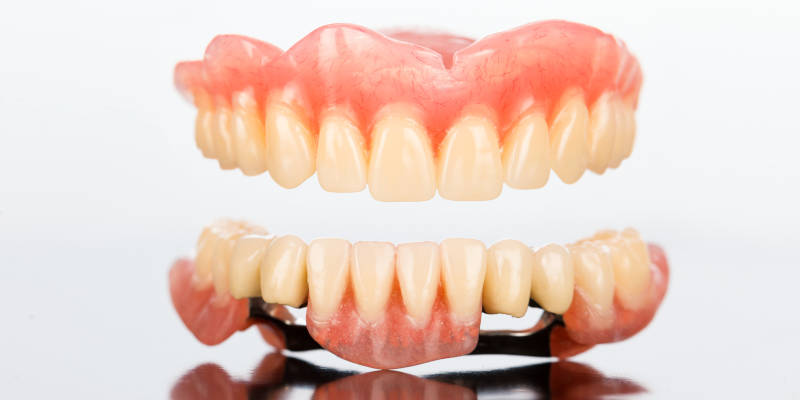 Removable complete dentures are what most people think of when they picture dentures. They are a full set of dental prosthetics that can replace the teeth of your upper jaw (maxillary arch), your lower jaw (mandibular arch), or both. Our office uses state-of-the-art equipment to craft removable complete dentures for our patients, including completely custom dentures.
We understand that for many people, going to the dentist is an anxiety-inducing experience. Our office has been specially designed to provide a soothing atmosphere that you won't find at your typical dentist's office. We started by making sure our office looks and feels more like a spa than a run-of-the-mill dental office, but we don't stop there. During your procedure, you can enjoy a warm face cloth or neck wrap, cozy up in a blanket, or take your mind off of things by watching a TV show or movie or listening to your favorite music with our complimentary streaming services like Netflix, Hulu, and Pandora.
If you're interested in learning more about how we can fit you with removable complete dentures, reach out to us today. We proudly serve customers in the Clayton, North Carolina area, and we look forward to helping you get the gorgeous, complete smile you deserve.
---
At Dental Oasis of Clayton, we offer removable complete dentures for patients from Clayton, Garner, Smithfield, Cary, Morrisville, and Johnston County, North Carolina.