Achieve a beautiful and confident smile while masking imperfections with veneers.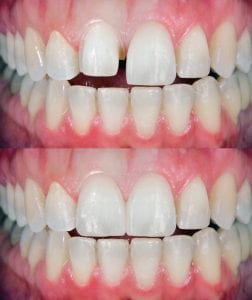 There are many different things that you can do to straighten your smile. Braces and treatments such as Invisalign can change the look of your smile significantly. However, there are some dental issues that can't be fixed with braces. Veneers address issues like a chipped tooth, permanent discoloration, gaps between teeth or a tooth that is uneven or disproportionate.
A veneer is a very thin layer of either porcelain or dental composite that is cemented to the existing tooth in order to improve the appearance of your smile. Your dentist can choose the color of the veneer that will best match your existing smile and create a beautiful set of veneers that will improve the appearance of your teeth significantly.
The key to great veneers is to customize each set to the patient's own individual smile. Veneers are not a one-size-fits-all approach! Instead, our dentists at Dental Oasis of Clayton will study your teeth extensively and figure out how to create a set of veneers that will be a perfectly believable addition to your smile. Instead of giving everyone the exact same smile in Clayton, North Carolina, which may or may not look good on them, we customize our veneers to make each person's smile beautifully unique to them.
Just like your natural teeth, the better you care for them, the longer your veneers will last. Veneers are an investment in your smile that needs to be cared for with regular, twice yearly dental cleanings, as well as thorough at-home oral care.
If you have questions about veneers or would like to know more about our dental practice, please talk with us today!
---
At Dental Oasis of Clayton, we offer veneers for patients from Clayton, Garner, Smithfield, Cary, Morrisville, and Johnston County, North Carolina.