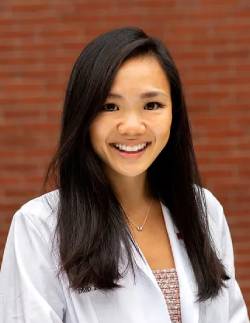 ---
About Dr. Emily Chan, DMD
Dr. Emily Chan was born and raised in the Boston area and is excited to relocate to the Triangle area! She graduated from Hamilton College with a bachelor's degree in Neuroscience and a minor in Mathematics. Dr. Chan continued on to graduate magna cum laude from Boston University School of Dental Medicine, where she was president of the Dental Aesthetics Society.
Dr. Chan received a dental education with a significant focus on state-of-the-art digital dentistry. She worked alongside an endodontist on a 10-week externship and takes continuing education in endodontics, cosmetic dentistry, and occlusion. Her goal is to give patients the smiles of their dreams, while making them feel relaxed and comfortable in the chair.
Dr. Chan's eye for aesthetics helped her amass an Instagram audience of over 100,000 followers on @bostonfoodgram. Boston Foodgram has been featured on The Nick Cannon Show, TODAY, The Drew Barrymore Show, and others. In her free time, Dr. Chan can be found playing tennis, skiing, photographing food, and relaxing with her fiancé and dogs Lacy and Tilly.
Professional Affiliations: American Academy of Cosmetic Dentistry, Academy of General Dentistry, American Dental Association, North Carolina Dental Society
Education
Boston University Henry M. Goldman School of Dental Medicine
Doctor of Dental Medicine, magna cum laude
GPA: 3.76
Associations: BU Student Dental Aesthetics Society (President 2021-2022, Member Outreach Chair 2020-2021), American Student Dental Association (Class Representative 2021-2022, Public Relations Chair 2020-2021, Fundraising Vice-Chair 2019-2020), Pre-Clinical Occlusion Course Teaching Assistant, American Academy of Cosmetic Dentistry, Academy of General Dentistry
Hamilton College
Bachelor of Arts, 2016
Neuroscience Major, Mathematics Minor
Awards: Dean's List, Intercollegiate Tennis Association Scholar-Athlete, Hamilton College Campus Service Award, Community Outreach and Opportunity Project Service Award, NESCAC All-Sportsmanship Team
​
Dental Experience
Michels & Gauquie Cosmetic & Family Dentistry, Greenville, NC
Associate Dentist (July 2022 – present). Performed anterior and posterior root canals, crowns, composite restorations, surgical extractions, and dentures in a private practice setting. Utilized knowledge of digital marketing and media to facilitate rebuild of the practice website and train marketing manager in photography, videography, and social media.
The Dimock Center, Roxbury, MA
Dental Extern (May 2021-July 2021). Performed crowns, composite restorations, 40-50 anterior and posterior RCTs, extractions, dentures, scaling and root planing, sealants, and pediatric restorations utilizing four-handed dentistry and overseen by general dentists, an endodontist and a pediatric dentist in a community health center clinic.
BU GSDM Treatment Center, Boston, MA
Student Dentist (Sept 2020-May 2022). Performed crowns, composite restorations, extractions, complete dentures, cast partial dentures, interim dentures, scaling and root planing, prophylaxis, and digital/analog final impression procedures. Created comprehensive treatment plans. Fabricated implant surgical guides, milled CEREC crowns, and activated implant-overdentures.