Have a relaxing visit when you come to our nitrous oxide dentist.
Visiting the dentist is not easy for many people. Fear of an uncomfortable experience at the dentist can be so difficult that some people even avoid the dentist altogether, making their next visit potentially longer and more difficult, exacerbating the cycle. Here at the Dental Oasis of Clayton, we want to help end the cycle of discomfort and ensure that your next dental visit is as comfortable as possible. We want our dental office to be an oasis of relaxation for you when it comes to dental care, and encourage everyone in the Clayton, North Carolina area who could benefit from a nitrous oxide dentist to make an appointment.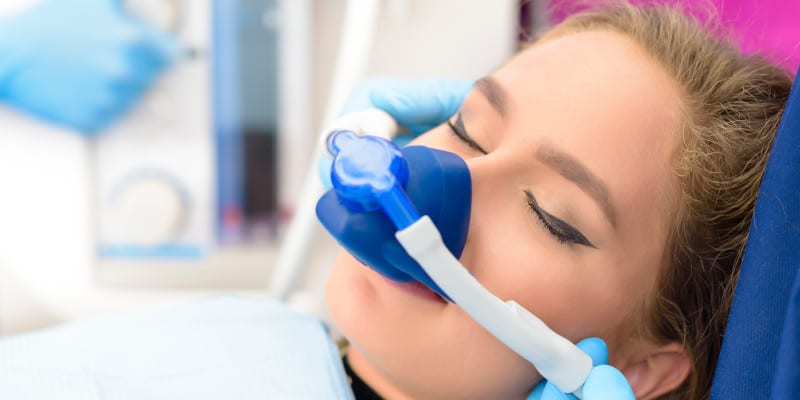 A nitrous oxide dentist is capable of administering nitrous oxide to patients, while also utilizing other methods that help to relieve dental anxiety. Nitrous oxide is administered not with needles, but through a gas that you breathe in with a nasal device that fits gently over your nose. Nitrous oxide allows your body and brain to relax, calming the senses and impeding the transmission of pain signals. This can help you get through a stressful dental visit faster and with less pain, ensuring that you are able to keep up with regular dental care.
In addition to having a nitrous oxide dentist at our dental office, we utilize many other calming and anxiety-reducing options. We have Pandora, Netflix and other streaming options, neck pillows, blankets, and much more. With top-of-the-line equipment, a soothing environment and wonderful, caring staff, we are confident that we can help you have a more pleasant dental experience. For more information, please contact us today.
---
At Dental Oasis of Clayton, our nitrous oxide dentists treat patients from Clayton, Garner, Smithfield, Cary, Morrisville, and Johnston County, North Carolina.
Similar Services We Offer: